We are happy to announce the EMSOP Winners!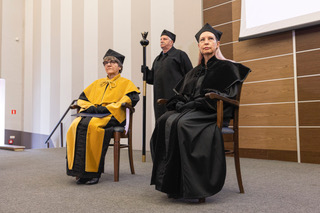 We are honored to announce that Poznan University of Medical Sciences, a premier higher education institution in Poland, awarded our faculty member, Professor Bozena Michniak-Kohn, Department of Pharmaceutical Sciences with the Honoris Causa Doctorate. This is the...
As featured in Rutgers Today
Why Choose Ernest Mario School of Pharmacy?
---
Academic Success
Our PharmD boasts pass rates near 100% on the pharmacy licensure exam, reflecting an education of the highest quality
Research Focus
Our faculty push the boundaries of pharmacy knowledge, and students share the discovery from laboratory to classroom
Practical Experience
Ours is one of the most extensive rotation programs in the country, offering access to 1,800+ clinical practice sites
Community Impact
Our students apply their pharmacy knowledge—through service and practice—to foster healthier communities now.